Top 5 Tuesday is a meme hosted by the every fabulous Shanah, Bionic Book Worm! Starting up March, this week we are talking about authors, the reasons we read…the people behind the curtain, the ever fabulous creators of our beloved works!
Chimamanda Ngozi Adichie
I remember the first time I watched her Ted Talk, "The Danger of a Single Story"… I've been in love with her ideas, her books, her words ever since. I would just love to listen to her speak and then perhaps get a chance to shake her hand. I admire the work she does towards promoting other stories and equality.
JK Rowling
It would be a lie if I didn't put JK Rowling on this list. She is probably one of the most famous authors in the world and I don't know what I'd ask her if I had the chance, but I do think I'd love to listen to her talk about Harry Potter…and perhaps how her life changed when things finally started to evolve and take on a life of their own. To think, she created an intricate world for an entire generation to grow up in…I'm forever thankful.
Diana Gabaldon
I love everything Outlander. I would just love to be a fly on the wall whenever she gets to discuss the books with the writers of the show and the cast. Her writing got me into historical fiction and obsessed with Scotland… That is the power of her words, she transports readers and they come out knowing more than they ever would have without realizing that they've learned it at all.
Glennon Doyle Melton
She is AMAZING. Her blog, her book Love Warrior, her journey, her life. She has been through so much and she is such a positive and loving person (at least as it seems). I would love to watch her interact with her wife, her ex-husband, and her children. I feel like she is someone who is so human and not afraid to be human, but someone that is working towards being a better her every day. I would love to get the chance to volunteer alongside her.
Sarah J. Maas
Her world's tear me apart. They completely suck me in, throw me around, slash through me with knives and magic, and then spit me out…leaving me wanting more. It's a destructive but beautiful relationship. I would love to listen to her talk about how she plans series and how she maps out her plot twists. Her work is so intricate, I admire her to pieces!
Bonus:
Ellen DeGeneres
I got to thinking about people that I admire and that aren't well-known as authors, but are more celebrities that have released books. Ellen is that person for me. I'd love to just shake her hand and maybe dance a little next to her. She's fabulous!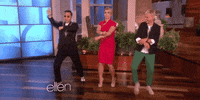 ---
---
Want to participate?
For a list of March Tuesday topics: click here